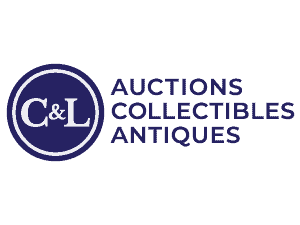 C&L Auction Services is an auction house headquartered in La Grange, North Carolina. OEPMA helped them establish their business online with branding, web design, and web analytical data. The aim was to reach those interested in bidding on items in their auctions and those who may have collectibles, antiques, vehicles, or furniture in their possession that they'd like to turn into cash.
If you're an auction house, you want to build trust right off the bat. While the C&L Auction Services branding identity isn't going to win any awards for being avant-garde, it uses classic, essential elements to express what the business is all about. A trustworthy blue tone with a never-ending circle between the C&L husband and wife team is precisely the chord needed to be strummed.
Since auctions don't take place on the actual website, C&L Auction Services needs a home base that shows their craft. Most importantly, they needed a place to educate buyers and sellers on how auctions work. OEPMA provided a design that offers inner pages for education and multiple contact points for joining the mail list and contacting the business.