As a manager of PPC accounts for a business, you become intimately acquainted with the company's competition. You gain a keen understanding of their primary rivals, including those who intermittently compete and those who are just dipping their toes in the water.
We handle a few PPC Accounts in the outdoor improvement space, which includes tree companies and landscapers. We'll group them all together as "home services."
If you're reading this, you most likely searched one of the names in the title, so you're most likely an owner of a home services business or you help a home services business with their marketing and advertising.
Maybe you're a consumer looking for a home service business.
You're possibly even connected with one of the landing pages.
After being asked the question in the title by multiple clients of ours and seeing these two companies pop up on my radar when pulling reports, I decided to answer this where I can just send a link the next time I am asked.
I have a call with a potential home services client later this afternoon, so I'm sure it's coming soon.
Powell & Sons and Gould Family Contractors serve as lead generators for multiple businesses that sell leads to contractors.
Someone searches for a home service like "Patio Builder" or "Tree Trimming," and one or maybe even both of these companies will appear in the advertising section on the Google search results page.
If someone seeking home services clicks on the ad, then enters their information on the landing page, the info is then sent out to paying contractors of lead generation services.
This isn't some gotcha post like I have figured out those dastardly folks and I'm exposing them.
It explains everything I have covered above in the fine print on both company landing pages. I have copy and pasted it verbatim below:
By submitting your info on this form, you are agreeing to be contacted regarding your service request by means of telephone, email, or text including using pre-recorded or auto dialed phone calls or text messages to the phone number you have provided, including your wireless number, if provided. Consent to contact doesn't require you to purchase service. Please note you may be matched to one of our trusted partners such as Craft Jack, Modernize, or Angi. By using this service, you agree to our Terms Of Service as well as to Angi Terms of Service and Privacy Policy and Craft Jack Terms of Service and Privacy Policy.
They even let visitors know in the opening paragraph on the landing pages:
We can quickly get you connected with specialists across a number of categories.
Some confusion happens on the consumer side, as can be viewed on various review websites: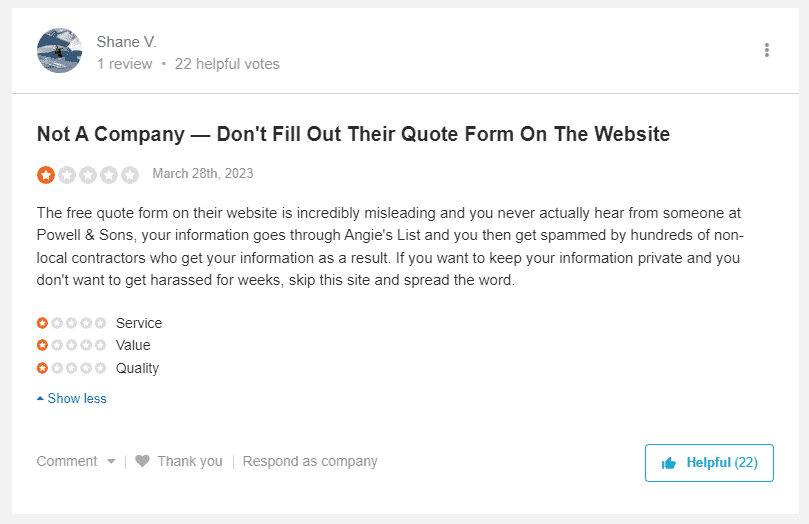 Some reviewers call it a scam. I think that's going a bit far. The company landing pages alert those filling out the forms about what will happen. Even if it's minimal font size or worded softly, it's still there for the consumer to read and understand.
Also, to be fair those are just a few reviews on various sites. I'm sure many people have used the landing pages and were connected with a competent home service company that did well by the customer.
Many of the bad reviews come from the anger of having multiple companies calling, e-mailing, and texting them when they thought only one would be contacting them.
This type of lead generation is pretty standard across many industries.
Off the top of my head, I can't think of a client we manage Google Ads for that doesn't have lead generating companies in the mix of advertisers either constantly or periodically.
Bottom line, It's fair game.
No matter what industry you compete in, you will see this. So get used to it.
If you were wondering, "Who is Powell & Sons?" or "Who is Gould Family Contractors?", there you have it.
They're lead-generating landing pages for various lead-generation companies in the home services space.
If you're an outdoor improvement company, landscaper, tree company or anything on the spectrum of home services and want to capture some leads under your brand name, schedule a free 30-minute call with OEPMA.
We'll let you know what we can do for you. If it's a fit, we'll go to battle for you and your business in those Google Ads trenches.